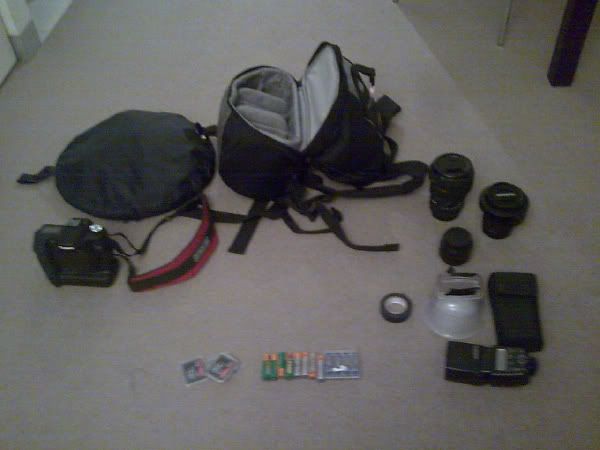 I've been getting lots of emails from people wanting to know the gear that I currently use. Let me confirm to you that yes I have upgraded. So say hi, let me introduce you to the to the Zillieman Family.

Clockwise from left :

Canon EOS 50D + BGE-2N battery pack + OP/Tech strap. The battery pack lets my boy go on forever and the strap halves it's weight. I'm serious.

107mm 4 side reflector. White, silver, gold and transparent (for diffusing). I usually use this for fashion/commissioned shoots. It's so cheap for the results I'm getting with it. Crazy.

Lowepro Orion Trekker II. Does the job. Durable, lightweight and full of padding.

Sigma 24-70 f2.8. Not the best lens in the world. It's perfect on certain focal lengths and when it's stopped down. 70mm on 2.8 is almost unusable. Gah.

Tamron 11-18 4.5-5.6. Great lens. Razor sharp. Some might not agree with the distortion but I am lovin' it!

Gary Fong Diffuser and duct tape, because it was designed for a 580EX.

50mm 1.8. Ridiculously affordable. THE BEST INVESTMENT EVER. Like Safuraa, I carry this around almost 90% of the time.
Canon 430EX Speedlite. One of my first investments. Never failed me.


Assorted rechargeable batteries.

10GB worth of memory cards. Plenty you might think, not when you're shooting RAW.
In the bag or not shown absent :


M2 Box2s Card Reader - Lightning fast.

Moleskin Notebook - To jot down random ideas/visual diary.

Microfibre cleaning cloth.

Manuals for flash/camera.

Holga 120 CFN + some medium format films. Always awesome to pack some old school, but a little pricy tho.

4th gen Ipod Nano 8gb.

Imagination.