Okay, i went for a haircut today.. Normally, i don't even remember the name or how my hairstylist looked like.. Or whether i did ask him/her to actually cut my hair, not just coming in, sitting down at one of their chairs waiting for somone to layan me because, to be honest.. I don't give a fuck and correct me if im wrong.. Most guys just don't give two fucks either.
However, the events that took place today @ Hairitage, Taman Megah will haunt me for the rest of my life.
Okay , maybe something similiar already happen to me la.. But mahai, it's a lot worst when it happens twice.
Let me begin with the first time.. It was @ Headlines, LimkokwingUCT. Stesh accompanied me to get my haircut in the hair design studio(Headlines la..). So okay la, 'he' cut my hair. But after that, he asked if i wanted to wash my hair and i agreed la (oklar, it was kinda embarassing wearing that towel-bandana thing on my head in front of Stesh) So he started talking la, when he was applying shampoo : (The fag's in pink)
"So, that your girlfriend?"
"Hmm.. No. No, she's not."
"Whyyy??? She's verryy cute laa.."
"Well, i kinda agree wit.."
"..somemore you also very handsome! So wasted la she not your girlfriend!"
"Er.."
"So nevermind la, your hair ah.. Very rough la the texture, maybe you should come over to my apartment @ Vista Millenium. I help you treat it."
"ER.."
"So you give me your number la k..?"
"(WHAT THE FUCK!?) Heh, no thanks."
So yea, that's scenario #1..
Here's #2..
Hairitage, Taman Megah. I was flipping through a magazine about cars. I just finished washing my hair, so the guy took a break and a lady took over. Oklar, he was on break.. But he was sitting right fucking next to me! I was halfway flipping through an article about the new 007 Aston Martin when they initiated a conversation in chinese.. When they stopped talking, the lady smiled, then she whispered..
"He say that u very hensem!"
"O_o!"
Oh, did i mention that he winked at me when i was looking at 'em?
Oklar, maybe no big deal la, to you people but FYI.. I'm kind of a homophobe. NOTHING against them laa.. But i just find them.. A lil intimidating at times. Haha.


_________


Since homosexuality's our main focus today, i'm gonna talk about male sex symbols. It is a fact that woman, find men like Brad Pitt, Johnny Depp and Matthey Fox.. Sexy. But if you ask me, sexiness can be sometimes, a lil universal. Come on guys, maybe you're not turned on by the sight of them naked lar.. But you do think that Brad Pitt's kinda cool at times right?

In short, this is how it works, really :


Brad Pitt, Johnny Depp etc.

Woman - Sexy
Guys - Cool

Here's my in-depth explanation from both points of view on these three fellas.


Brad Pitt
Woman

Oklar, hands down, he's got the looks, style and the fucking body to be a legendary sex symbol. No explanation needed here.


Men

Oklar, you gotta admit, although there's much hype about his looks and him banging Angelina Jolie and stuff.. He's one heck of an actor. He single-handedly made Fight Club into a cult classic with his brilliant portayal of Tyler Durden. For example :
Tyler Durden: Man, I see in fight club the strongest and smartest men who've ever lived. I see all this potential, and I see squandering. God damn it, an entire generation pumping gas, waiting tables; slaves with white collars. Advertising has us chasing cars and clothes, working jobs we hate so we can buy shit we don't need. We're the middle children of history, man. No purpose or place. We have no Great War. No Great Depression. Our Great War's a spiritual war... our Great Depression is our lives. We've all been raised on television to believe that one day we'd all be millionaires, and movie gods, and rock stars. But we won't. And we're slowly learning that fact. And we're very, very pissed off.

And who can forget Mickey from Snatch :

Turkish
: Well, do you want to do it?
Mickey
: That depends.
Turkish
: On what?
Mickey
: On you boying this carahvan. Not the rouge one, the rose.
Turkish
: It's not the same caravan.
Mickey
: It's no' the same foight.
Turkish
: It's twice the fucking size of the last one.
Mickey
: Turkish, the foght is twice the size. And me ma still needs a caravan. I like to look after me ma. It's a fair deal. Take it.
Turkish
: Mickey, you're lucky we aren't worm food after your last performance. Buying a tart's mobile palace is a little fucking rich.
[
Realizes his mistake
]
Turkish
: I wasn't calling your mum a tart. I just meant...
Mickey
: Save your breath for cooling your pies. Hey, look
[
starts talking incoherently
]
Mickey
: Right. And she's terribly partial to the periwinkle blue. Have I made myself clear, lads?
Turkish
: Yeah, that's perfectly clear, Mickey. Just give me one minute to confer with my colleague.
[
to Tommy
]
Turkish
: Did you understand a single word of what he just said?


Next, we have..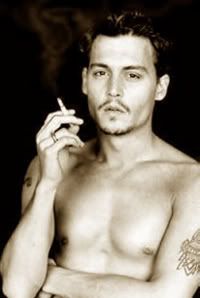 Johnny Depp
Woman


Boyish looks, smooth talker and he just has that eccentric-weird-ass-fuck thing going on.. Some find it sexy, for some reason but really.. Who gets women eh?



Men


3 words.. Captain Jack Sparrow.

Barbossa
: How the blazes did you get off that island?
Jack Sparrow
: When you marooned me on that god forsaken spit of land, you forgot one very important thing, mate: I'm Captain Jack Sparrow.


This line's a classic..
Jack Sparrow
: I know those canons. It's the Pearl.
Man in Jail
: The Black Pearl? I've heard stories. She's been preying on ships and settlements for near ten years. Never leaves any survivors.
Jack Sparrow
: No survivors? Then where do the stories come from, I wonder?

Finally..


Matthew Fox
Woman


Dr.NiceGuyWhoCaresAboutEverybodyButHimself in Lost. Even my mum thinks he's hot.



Men


Im kinda lazy to write la, but there was one scene in lost where his wife(who happens to be his patient, he succesfully fixed her broken back, which enabled her to walk again) gave a speech during his pre-wedding dinner saying something like "I thought all hope was lost, and you came, my prince.. And you fixed me. So thank you Jack, for saving me." SOMETHING like that lar. Then the following day, during his wedding, he was resciding his wedding vows.. It went SOMETHING like this la.. "Remember yesterday,(he was in tears when he was talking) when you said i fixed you. Honey, you got it all wrong.. You fixed me." Oh my god, i would had married him if he said that to me.. Haha. Oklar, maybe he doesn't appear to be cool to men in general, but i personally, think he's brilliant. So, this one's kinda irrelevant la. Haha.

Okthen, fuck it. Im off to do my assignments. Tata.

Zillieman. Out.